Foot and Ankle Treatments Specialist Walnut Creek, CA
There are a wide range of potential foot and ankle problems for which podiatrists at Bay Area Foot and Ankle Associates are highly trained to provide you with the most specialized treatment. Contact us for more information or schedule an appointment online.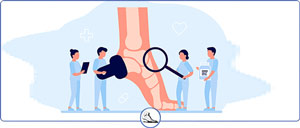 Table of Contents:
Who treats disorders of the ankles and feet?
What type of doctor is a specialist in regards to treating feet?
Should I see a podiatrist or orthopedist when I am experiencing ankle pain?
Can a podiatrist help with ankle problems?
Who treats disorders of the ankles and feet?

Disorders of the ankle and feet can be treated by several different types of doctors; however, in many cases patients will find treatment from a podiatrist, who are specialists in this field, is the best course of action. With 26 bones, 33 joints, and over 100 muscles, tendons, and ligaments, the foot is one of the most complex parts of the body. Nearly 25% of all bones in your body are located in your foot.

A podiatrist diagnoses, treats, and prevents conditions and injuries of the foot and ankle. The lower extremities are treated by podiatrists, who can provide medical and surgical care if needed.

It is possible for foot pain to be caused by anything from an injury to diabetes. Regular appointments with your primary care provider are recommended if you suffer from a chronic condition, so they can rule out the basics, like whether you smoke or not keep your sugars regularly. To ensure everything is okay in general, this should be your first stop. For some ankle and feet disorders patients find relief from visiting physical therapists. Ultimately, however, podiatrists are the best option for treating complex disorders affecting the ankles and feet.

You should seek a specialist if you have been going to your general practitioner and nothing has resolved your feet problem. Maintaining your foot health requires someone who knows the ins and outs of the foot since that is what they went to school for. In addition to performing surgery, they may also perform other procedures according to their certifications. If, for example, you have a serious bunion that changes your alignment and comfort, you should see them. It is possible for them to recommend and schedule a repair of the problem.
What type of doctor is a specialist in regards to treating feet?

Podiatrists are doctors of podiatric medicine (DPMs) who specialize in treating issues with the feet, ankles, and lower legs. Their treatment can help patients restore the function of their limbs after surgery or injury, reduce pain, and speed up their healing process.

A podiatrist treats problems with the foot or lower leg of a patient. As needed, they can set fractures, write prescriptions, recommend physical therapy, and perform surgery. In some cases, podiatrists assist other doctors in treating a patient.
Should I see a podiatrist or orthopedist when I am experiencing ankle pain?

Podiatrists and orthopedists are both capable of treating ankle pain however, the former trains more specifically in issues concerning the ankle and feet.

Orthopedic surgeons (MDs or DOs) treat both the lower extremities and the entire musculoskeletal system. In orthopedics, injuries and diseases of your musculoskeletal system are diagnosed, treated, rehabilitated, and prevented. The majority of orthopedic surgeons practice general orthopedics, but some specialize in treating feet and ankles, hands, shoulders, spines, hips, and knees as well as pediatrics and sports medicine.

Your knee, hip, and lower back may be to blame for some foot and ankle problems. The foot and ankle orthopedic surgeon will be able to treat complex conditions affecting the lower extremities as a whole. Besides evaluating foot problems, they can also evaluate other orthopedic issues that may contribute to foot and ankle pain.

However, podiatrists spend more time specializing in the treatment of the ankle and foot specifically. For this reason, many patients will opt to see a podiatrist over an orthopedist when it comes to ankle pain.
Can a podiatrist help with ankle problems?

The term podiatrist refers to someone who is trained in the practice of podiatric medicine (DPM). The specialty of podiatrists is to diagnose and treat foot and ankle disorders.

Besides receiving medical training, they are also trained in foot, ankle, and lower leg surgery. In addition, they are extremely knowledgeable about biomechanics and proper foot balance, so they are capable of fitting orthotics, custom shoes, and a variety of braces. The entire course of study for podiatrists is dedicated to studying medicine as it pertains to the feet. Many of them work with multiple podiatry and orthopedic surgeons during their residency training in foot and ankle surgery. Thus, they have studied the feet and ankles more specifically over the course of their careers.

Foot and ankle problems can be treated at Bay Area Foot and Ankle Associates. We serve patients from Walnut Creek CA, Brentwood CA, Pleasant Hill CA, Pittsburg CA, Concord CA, Antioch CA, Alamo CA, Danville CA, and Oakley CA.