Custom Foot Orthotics Q & A
Come to Bay Area Foot and Ankle, where we offer custom foot orthotics that provide additional arch support and help fight against foot and leg pain.

Call today

for more information or schedule an

appointment online

! Dr. John W. Scivally, DPM And Dr. Robin K. Lie, DPM Specialize in Bunion Treatment, Fungal Toenail Treatment, Hammertoe Treatment, Peripheral Artery Disease (PAD). We serve patients from Walnut Creek CA, Brentwood CA, Concord CA, Pleasant Hill CA, Pittsburg CA, Antioch CA, Alamo CA, Danville CA, and Oakley CA.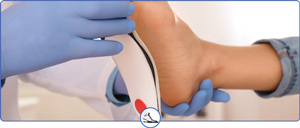 Table of Contents:
What are the best custom orthotics?
Are custom made orthotics worth it?
What shoes do podiatrists recommend?
We are constantly on our feet, so it's important to have the proper support. Unfortunately, socks and shoes don't always allow our feet the proper arch support, and can lead to foot, leg and even back pain. Thankfully, we have you covered! At Bay Area Foot and Ankle, we make customized insoles to provide you with the proper support that your body needs!
What are the best custom orthotics?

It's a good idea to consider arch support when purchasing a new pair of shoes, but sometimes you need a little extra cushioning, especially if you suffer from foot pain. Orthotic insoles to the rescue! These can offer added support when slipped into less-than-comfortable shoes. Custom-designed orthotic insoles can be pricey but will give you a truly perfect fit. For that reason, many podiatrists recommend trying off-the-shelf insoles first. An over-the-counter device is sometimes used as a trial prior to using a prescription insole, similar to using readers before getting prescription glasses.

Luckily, the latest off-the-shelf insoles are available in a variety of lengths and styles, so it's easier than ever to find the perfect ones for your feet. The benefit of off-the-shelf insoles is that they provide the ability to take a shoe that doesn't fit quite right and make it more custom. Many ready-to-wear insoles now come full-length to replace removable liners in shoes, as well as shorter versions that can be worn in ballet flats and lower profile shoe types.

Prescription orthotics are divided into two categories:

• Functional orthotics: They may be used to treat injuries such as tendinitis and shin splits or foot pain caused by abnormal motion. Functional orthotics are usually crafted from a semi-rigid material such as graphite or plastic.

• Accommodative orthotics: These are meant to provide additional cushioning and support as they are softer. They can be used to treat diabetic foot ulcers, painful calluses on the bottom of the foot, and other uncomfortable conditions.
Are custom made orthotics worth it?

Custom orthopedic footwear or modifications may be helpful for specific medical situations such as high arches. Everything else is less certain, even quite obvious and common foot problems like hallux valgus (lateral bulging where the big toe meets the foot). Even with wise prescription and skilled crafting, many people will be helped, and many will not.

Unfortunately, you can't count on wise prescription and skilled crafting: there are many unscrupulous and shoddy suppliers of these products who will prescribe orthotics for almost any problem or none at all. The science is complex and incomplete. Regulation is a confusing mess. It is nearly impossible for consumers to know if they actually need any of these products, or where to get an expert prescription and a quality product.

Since relief is not universal, you need customized care, which is exactly what custom orthotics provide for your body. Although most people think there's only one arch in the foot, there are actually three, and each arch requires support. Custom orthotics are created by scanning and assessing not only your arches, but also how you distribute your body weight on your feet, and a one-of-a-kind solution is created especially for you to provide relief. Custom orthotics provide the support and relief that is nearly impossible to find with over-the-counter solutions and based especially on your unique body, for optimal success.
What shoes do podiatrists recommend?

Finding the right fit is essential when it comes to the best shoes, but comfort reigns supreme. And according to the professionals, there are a few types that fit the bill in terms of support and all-day comfort.

The best shoes simply fit and feel good. Most feet feel better in a low heel or something with good arch support, preferably a custom orthotic, so try to avoid anything too flat or flip-flops for long walks.

As far as fit goes, it's important to make sure there's plenty of room for the true width of the foot which you can determine by standing up at the end of the day when feet are swollen.

If you or someone you know is experiencing foot, leg or back pain, it may be because you do not have the proper support for your feet. But don't worry! At Bay Area Foot and Ankle, we have a solution for you with our custom-made orthotics! Contact our office today to get in touch with a specialist. To book an appointment, call us or visit us online!  Serving Walnut Creek, Brentwood, Concord, Pleasant Hill, Pittsburg, Antioch, Alamo, Danville, and Oakley CA