Podiatric Sports Services Questions and Answers
Have you recently been injured with a sports injury or having issues with a previous injury that was either not treated correctly or didn't heal properly.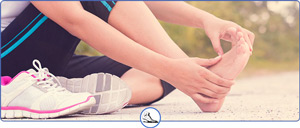 Table of Contents:
What Is a Podiatrist?
What are the most common podiatric sports services?
Where can I find podiatric sports services?
Do Bay Area Foot Doctors offer podiatric sport services?
What Is a Podiatrist?

Podiatrists are doctors who specialize in treating problems that affect the feet or lower legs. Podiatrists can treat injuries as well as complications from any ongoing health issues you may have, such as diabetes. You might hear them referred to as a podiatric physician or a doctor of podiatric medicine, whichever you hear they all mean the same thing.

While podiatrists do not attend a traditional medical school, they have their own specialized school and professional associations.

Podiatrists have the ability to do surgery, reset broken bones, prescribe medications as well as order lab tests or x-rays. Podiatrists work closely with other specialists when a problem affects your feet or lower legs.
What are the most common podiatric sports services?

Sport injuries based in the feet and ankles require special treatment from a podiatrist to ensure the bones, ligaments and tendons heal properly and can remain healthy for years to come. Bay Area Foot and Ankle Associates offers a range of treatment options to help ensure you receive the best outcomes from our podiatric sport services. Some of the most common sport injuries we treat include:

• Achilles tendonitis
• Bunions
• Calluses
• Flat feet
• Fractures
• Sprains
• Strains
• Plantar fasciitis
• Overuse of injured ankles or feet
• Heel fissures
• Ingrown toenails
Where can I find podiatric sports services?

Bay Area Foot and Ankle Associates offers a multitude of podiatric sport services with two locations to choose from in Walnut Creek, CA (near Rossmoor), and Brentwood, CA.

If you are in need of a podiatric sports service and live near one of the Bay Area Foot and Ankle Associates locations, call us to book your appointment. We want to be able to treat your sports-related injury while building strength and stamina. Our main goal is to help you stay active, especially when you've been sidelined by an injury. 

Our podiatrists at Bay Area Foot and Ankle Associates specialize in sports medicine and treatment to help you recover from your sports injury, to improve your athletic performance and offer preventative care to help reduce the risk of future injury.

If you want to stay in the game longer, and continue playing sports, it is best if you know when to visit a sports medicine doctor or podiatrist for your foot, ankle or lower leg injuries.

Our sports medicine podiatrists can help by evaluating, diagnosing and treating your acute sport injuries as well as overuse injuries and genetic abnormalities. If you experience any of the following symptoms, please consider scheduling an appointment with one of our podiatrists:

• Inflammation
• Pain that worsens when you increase your activity levels
• Stiffness or limited mobility in your ankle and/or foot
• Swelling
• Tenderness or difficulty bearing weight on your ankle/foot

Our podiatrists have extensive training and medical background in sports-related ankle and foot injuries which has helped numerous athletes get back on their feet faster and stronger than before.
Do Bay Area Foot Doctors offer podiatric sport services?

Yes! Our podiatrist clinic has two doctors who offer podiatric sport services, they are Dr. John W. Scivally DPM FACFAS and Dr. Robin K. Lie DPM. Both of our doctors are fully capable of helping you with your sports injuries. If you have recently gone through a sports injury, or previously had one and it has not been treated or healed properly, come visit one of our doctors at Bay Area Foot and Ankle Associates today. We offer convenient locations to choose from, one in the Walnut Creek area, and one in Brentwood, CA area. Visit our locations page today to review which location is nearest to you, and any additional information you may need. Give us a call today to book a consultation for your sports injury!