John W. Scivally, DPM at Bay Area Foot and Ankle Associates in Walnut Creek & Brentwood, CA
Meet your Walnut Creek podiatrist, Dr. John W. Scivally! Dr. Scivally is a highly skilled and professional physician at Bay Area Foot and Ankle Associates. He will be taking care of all your foot and ankle problems as he is a well trained physician in both foot and ankle surgery as well as in medicine.

Call us

for more information. We serve patients from Walnut Creek CA, Brentwood CA, Concord CA, Pleasant Hill CA, Pittsburg CA, Antioch CA, Alamo CA, Danville CA, and Oakley CA.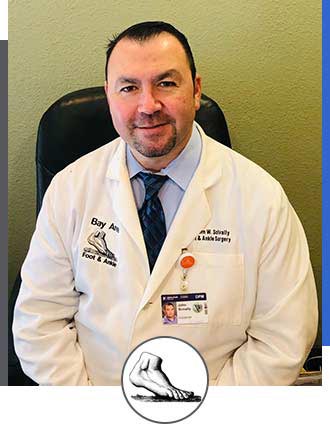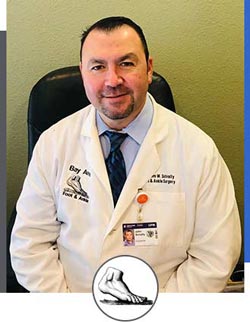 John W. Scivally, D.P.M., F.A.C.F.A.S.
Dr. Scivally is a Northern California native who attended Galt High School in Galt, CA. Galt is a small rural community in southern Sacramento County. He then attended U.C. Davis where he played football and received his Bachelor of Science Degree in Biological Sciences in 4 years. After graduating from U.C. Davis, Dr. Scivally came to the Bay Area and enrolled at the California College of Podiatric Medicine in San Francisco. He obtained a Doctor of Podiatric Medicine Degree 4 years later. It was at this time that he accepted a residency training position at Los Angeles County + USC Medical Center in Los Angeles. Dr. Scivally followed that up with additional Foot and Ankle Surgical Training at Chino Valley Medical Center in Chino, CA. He was then recruited back to the Bay Area to take over a practice of a retiring podiatrist in Walnut Creek, CA. Since that time, he has built a practice that treats patients in not only Northern California, but also patients from Toronto to Temecula. Dr. Scivally is well trained in all aspects of foot and ankle medicine and surgery. He is known as a gentle, friendly, highly skilled and compassionate physician.
Dr. Scivally has served as Chairman of the Podiatric Medicine Division of the Department of Orthopedics at John Muir Medical Center, Walnut Creek Campus. He is currently on the Medical Executive Committee at Aspen Surgery Center in Walnut Creek, CA. He is a well respected physician and businessman in Northern California. Dr. Scivally is Board Certified by the American Board of Podiatric Surgery and a Fellow of the American College of Foot and Ankle Surgeons.