Foot Specialist in Walnut Creek, CA
If you are looking for a foot specialist that can help you or a loved one with any foot issues, diseases, or surgeries, contact our clinic today. Our podiatrists specialize in feet, and can help diagnose, treat, and also offer prevention recommendations when it comes to your feet. Contact our clinic today.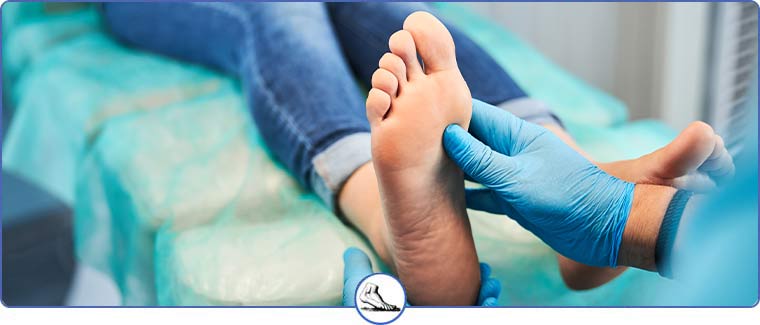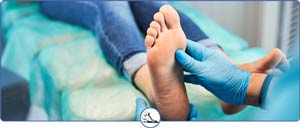 Table of Contents:
What foot problems do podiatrists treat?
What is the most common problem treated by a podiatrist?
When should I see a podiatrist for foot pain?
Is it better to see a podiatrist or orthopedist?
What foot problems do podiatrists treat?

Foot issues that podiatrists are able to help treat include:

– Achilles tendonitis
– Achilles tendon rupture
– Avulsion fracture
– Bone spurs
– Broken foot
– Broken toe
– Bunions
– Bursitis (joint inflammation)
– Corns and calluses
– Diabetic neuropathy (nerve damage caused by diabetes)
– Flatfeet
– Gout (arthritis related to excess uric acid)
– Haglund's deformity
– Hammertoe and mallet toe
– High heels or poorly fitting shoes
– Ingrown toenails
– Metatarsalgia
– Morton's neuroma
– Osteoarthritis (disease causing the breakdown of joints)
– Osteomyelitis (a bone infection)
– Paget's disease of bone
– Peripheral neuropathy
– Plantar fasciitis
– Plantar warts
– Psoriatic arthritis
– Raynaud's disease
– Reactive arthritis
– Retrocalcaneal bursitis
– Rheumatoid arthritis (inflammatory joint disease)
– Septic arthritis
– Stress fractures
– Tarsal tunnel syndrome
– Tendinitis
– Tumors
What is the most common problem treated by a podiatrist?

Some people have very healthy feet and ankles, with the amount of walking and running they do, and notice no issues. While others have weak, painful, or ill-fitting feet.

Poor foot health is often caused by using your feet incorrectly or too much. It can be corrected with proper footwear and exercises.
 
Most foot problems occur from overuse of the feet. Feet are designed to move in a limited way they are not weapons of the body. People tend to use their feet mainly for walking or running. This causes the muscle groups within the feet to stay active.

This can damage the supporting structures of your feet if you do not use them correctly.
 
Plantar fasciitis is a common disease that is caused by overuse of the foot. It manifests as inflammation and pain along the sole of the foot. Most people who suffer from this condition also overuse their feet. Exercises that strengthen your calves and Achilles tend to improve your foot health as well.
When should I see a podiatrist for foot pain?

As the weather warms up, our feet and ankles are waking up from hibernation but they might not be ready for sandal season just yet. In fact, many people put off seeing a doctor with foot or ankle problems because they're not sure where to seek treatment.

Believe it or not, they think persistent foot problems are normal.

Believe me, having sore feet all the time is not normal. If you have any problems with your feet and/or ankles sports injuries, arthritis/joint pain, skin problems, etc.

It's best to see a podiatrist. A podiatrist is an expert in treating and treating almost any condition that affects the ankle and/or foot. If you have any of the following problems or symptoms, it's time to see a podiatrist.

1. Numbness, pain, or swelling in one foot
2. Nail fungus
3. Continuous heel pain
4. You think you've sprained or broken your ankle or foot
5. A reoccurring case of athlete's foot
6. You have diabetes
7. An ingrown toenail
8. Bunions
9. Painful corns or calluses
10. Joint pain in the foot or ankle
Is it better to see a podiatrist or orthopedist?

Many people do not understand the difference between a podiatrist and an orthopedic surgeon. Both are medical professionals, but they do things differently.

If you're not sure which ones to watch, it's important that you first understand what each one does. An orthopedic doctor, also known as an orthopedic surgeon, is a medical professional who specializes in diagnosing, treating, and preventing musculoskeletal disorders and injuries. This means that an orthopedic doctor can treat you if you are injured or have a condition that affects your muscles, bones, ligaments, tendons, and other connective tissues.

Common issues treated by orthopedic doctors include:

– Fractures
– Sprains and strains
– Ligament tears
– Spinal disc injuries
– Arthritic damage in joints
– Sports injuries

Podiatrists treat all types of orthopedic diseases and injuries that affect the feet and ankles. If you have foot conditions such as plantar fasciitis, bone spurs, or a sprained ankle, a podiatrist can treat them. Corns, calluses, heel spurs, drooping arches, biomechanical issues, and diabetic foot care.

Examples of procedures that podiatric surgeons perform are:

– Reconstructive surgery of the foot and/or ankle
– Arthroscopic foot and/or ankle surgery
– Charcot foot and limb salvage

We serve patients from Walnut Creek CA, Brentwood CA, Concord CA, Pleasant Hill CA, Antioch CA, Alamo CA, Danville CA, Pittsburg CA, and Oakley CA.